Vulvoplasty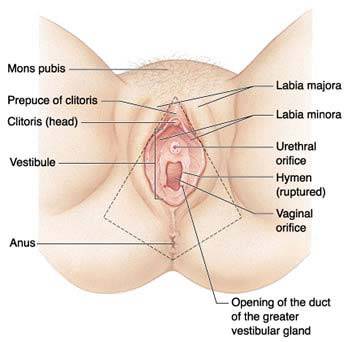 The vulva is the outside part of your vagina. It serves to protect your reproductive organs, the opening to your urinary tract, your vestibule and your vagina. Because your vulva includes your clitoris, it determines how much sensation you feel during sex. It also plays a major role in your sexual response.
Surgical correction of a deformed, misshapen or excessively large vulva is called a vulvoplasty. This is different from a vaginoplasty. A vulvoplasty may be performed to correct abnormalities due to congenital deformities, damage during childbirth, age, or injury. The procedure often is the best course of action to take when you have continuing vaginal disorders.
A cosmetic vulvoplasty is an alternative that's becoming more and more popular as women take more responsibility for their bodies and their sexual experiences. Other women may feel pain when practicing certain sports such as cycling that can be alleviated with a vulvoplasty.
Female Inner and Outer Workings
You may be familiar with the terms labia majora and labia minora, as these are terms that women learn as they develop sexually. The labia are the inner and outer lips of the vulva. The cosmetic surgery to address just these lips is called a labiaplasty.
The vestibule is that part of the vulva that surrounds the opening of your vagina, as well as the opening of the urethra, clinically called the urethral meatus. The last part of the vulva is called the perineum and refers to the space that extends at the bottom of the vulva back to your anus. Surgery to correct a problem here is called a perinioplasty.
Nerves that originate in your spine travel down to your vulva and are responsible for the sensations you experience during sexual arousal. The pudendal nerve is the one that sends pain and other sensations from the vulva to your brain. The pudendal nerve runs through your pelvis to your lower back and enters your vulva through your hip bone. It also runs to your clitoris. The pudendal nerve is responsible for both the function and control you have over urination as well as the signals required to experience orgasm.
Cosmetic Vulvoplasty Benefits
Female genitalia represent the last frontiers in the plastic surgery arena. The industry has seen remarkable acceptance and recognition since the turn of the 21st century. More than 10 million plastic surgery procedures focusing on female genitals were performed in 2014, according to the American Society for Aesthetic Plastic Surgery. While most of those were for more common procedures such as labiaplasty, studies show that women are becoming more involved with the appearance of their genitals and with taking control of their sexual experiences.
Women want to feel more self-confident and in control of their appearances in every part of their bodies. Very often, vulvoplasty and other private plastic surgery procedures are done because the women aren't satisfied with their looks or their sexual sensations, not because someone else told them to get the surgery. Cosmetic vulvoplasty can:
Restore self-esteem
Rejuvenate your love life
Provide added sexual excitement
Open up new options in attire that previously were too uncomfortable or showed obvious signs of vaginal abnormality
Vulvoplasty for Clinical Reasons
Heavy layers of skin on the vulva also can create medical problems that a vulvoplasty can address. Excess folds lead to a host of complications that can include:
Chronic vaginitis
Dermatitis
UTIs or urinary tract infections
Pyoderma or bacterial infections
Vulvoplasty is one way to correct the excess folds of skin to allow more air to reach the vulva, preventing a plethora of irritating and sometimes dangerous infections and complications.
Another condition that can be addressed is called vulvodynia, which refers to chronic vulva pain that doesn't seem to have any obvious cause. Gynecologist in NYC Dr. Zelmanovich believe that vulvodynia may be caused by elevated levels of inflammatory materials present in the vulva. It also may be due to an injury or constant pressure put on the outer layers of skin that are protruding significantly.
How It's Done
A vulvoplasty typically is performed under general anesthesia, so if you're allergic to the anesthesia, you face extra risks, though they're rare. The operation itself is a simple procedure that won't take longer than 30 to 45 minutes. It merely involves clipping the excess skin off and repairing any external damage. Cutting tools may consist of:
Focused lasers
Plastic surgery scissors
A needle with a heated end to cauterize as it cuts
Radio frequency that allows the surgeon more leeway to sculpt the vulva
After the surgery, your labia will be closer to the vaginal opening and you won't have that excess skin dangling down anymore. Scars are invisible and downtime following the procedure usually lasts about a week. You can resume almost all of your normal activities within three weeks and begin having sexual intercourse again after six weeks.
Expectations, Risks and Results
The ultimate goal of vulvoplasty to the major, minor or both sections of labia are:
Reduce the size of the vulva
Maintain sufficient blood flow to the outer regions of the genitals
Preserve the vaginal entrance
Leave the optimal coloring and appearance intact
Use minimally invasive techniques
As with any procedure, however, risks do exist. Severe complications typically are reported in less than five percent of vulvoplasty procedures in the U.S. each year. While rare, risks can include:
Over-repair by removing too much skin
Excessive scar tissue left that require another procedure
Scalloping that leaves the labia edges rough and uneven
Infection
Pain during intercourse
Results that don't live up to your expectations
Cosmetic or Medically Necessary
Most likely, your insurance won't cover a vulvoplasty when it's elective surgery to help you feel better about your appearance or to enhance your sexual stimulation. It may, however, be covered if your OBGYN can show that the procedure will help to prevent various chronic gynecological conditions.
Ultimately, a vulvoplasty, like many other plastic surgery procedures, affects your quality of life, something that is very difficult to put a price tag on. Through frank and open discussions with your OBGYN, you can figure out if it is the right path for you to take to reach your full potential.
Important Reminder: This information is only intended to provide guidance, not a definitive medical advice. Please consult the best gynecologist in NYC, ob gyn doctor about your specific condition. Only a trained, experienced board certified gynecologist in a specialized gynecology in NYC center can determine an accurate diagnosis and proper treatment.
Do you have questions about Vulvoplasty surgery or vaginal rejuvenation procedure? Would like to schedule an appointment with an internationally recognized, top rated GYN specialist in Midtown NYC, Dr. Anat Zelmanovich of Manhattan Women's Health and Wellness, please contact our office for OBGYN consultation.
Dr. Anat Zelmanovich
,
Gynecologist
(
Gynecologist NYC
, Midtown OB/GYN)
51 East 25th Street, Ste 403
,
New York
,
NY
10010
(Between Madison Ave & Park Ave)
☎
(212) 533-4575
Dr. Anat Zelmanovich
,
Gynecologist
(
Gynecologist NYC
, Upper East Side OB/GYN)
983 Park Ave, Ste 1D
,
New York
,
NY
10028
(Between 83th & 84th Street)
☎
(212) 427-8761
Dr. Anat Zelmanovich
,
Gynecologist
(
Gynecologist NYC
, Union Square OB/GYN)
55 W 17th St Ste 104
,
New York
,
NY
10011
(Between 5th & 6th Avenue)
☎
(212) 378-9985
DISCLAIMER: PLEASE READ CAREFULLY
The information on this website is to provide general guidance. In no way does any of the information provided reflect definitive medical advice and self diagnoses should not be made based on information obtained online. It is important to consult a best in class gynecologist in Midtown regarding
ANY and ALL
symptoms or signs as it may a sign of a serious illness or condition. A
thorough consultation
and examination should
ALWAYS
be performed for an accurate diagnosis and treatment plan. Be sure to call a physician or our Gynecology NYC office today and schedule a consultation with a top Midtown OBGYN gynecologist.