Annual Gynecological Exam
An annual gynecological exam is an important aspect of preventative care for all women. It is recommended that women have a gynecological exam at least once a year. The exam includes a history and physical exam, which includes checking the breasts, the pelvis and may include a pap smear.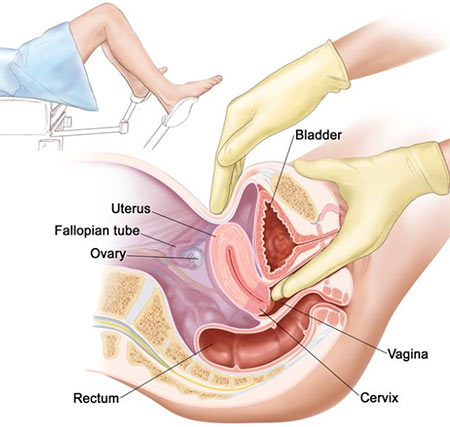 The annual gynecological exam is recommended at least once a year for all adult women who are sexually active. Besides the physical exam, gynecologist in NYC, Dr. Zelmanovich of Manhattan Women's Health & Wellness will check vital signs including pulse, respirations, and blood pressure, as well as testing for sexually transmitted diseases, urine and blood tests. The exam includes screening tests for gynecological and breast cancers.
Patient History
The gynecologist will begin by taking a thorough history of the patient including asking questions about gynecological and obstetrical history including sexual activity, and pain. The history will include past medical, surgical, family history, toxic habits, and medication. Giving the gynecologist, Dr. Zelmanovich a complete history will help her tailor her recommendations to the patient.
Visual Inspection
The OBGYN specialist will perform a breast examination, which begins with a visual inspection. The doctor will check both breasts to look for any abnormalities in color, symmetry as bulges and/or dents. The breasts are then examined with the hands, with the patient lying or sitting. The patient's armpits are also examined, looking for lymph nodes or masses, which may be found there. Then both nipples are examined, palpated, and squeezed check for any abnormal discharge. If NYC gynecologist, Dr. Zelmanovich finds an abnormality she may send the patient for further testing with breast ultrasound or mammogram.
Pelvic Exam
The pelvic exam is an evaluation of the pelvic organs of a woman. During the pelvic exam, the gynecologist will inspect the external genitalia visually, the vaginal canal with a speculum, and the pelvic organs with a bimanual exam.
Bimanual GYN Exam
The purpose of the bimanual exam is to palpate the pelvic organs, which cannot be seen with visual inspection. The pelvic organs that are examined are the cervix, uterus, fallopian tubes, and ovaries. Usually gynecologist in New York, Dr. Zelmanovich will insert her index and middle fingers into the vagina, and then palpate systematically the cervix, uterus, fallopian tubes and ovaries. The doctor will place her other hand over the patient's mons-pubis to press and feel these organs, where she will look for how the organs move, their shape, consistency, and orientation within the pelvis. This is an important aspect of the pelvic exam as the doctor can screen for masses or other abnormalities leading to further testing if necessary.
The speculum examination is recommended for all adult women regardless of their sexual activity. The speculum can be made of either metal or plastic and has two parts which help open the vagina so that the doctor can properly visualize the vaginal walls and cervix with the help of a light source.
Screening Test for Cervical Cancer
The pap smear is used as a screening test for cervical cancer and to look for infections with the human papilloma virus. You may or may not need a pap smear during your annual exam depending on your last visit and current symptoms. During the pap smear in NYC the gynecologist, Dr. Zelmanovich will scrap the cells off of the surface of the cervix as well as from the sides of the cervix, this can be done with a cervical brush, spatula, or scraper.  After the exam there may be temporary bleeding from this procedure, this is normal and will usually resolve within 24 hours.
The samples are sent to a pathologist who will look at the cells under a microscope in order to determine if the cells are a cause for worry or not. If the cells appear worrisome the patient will return for further testing with a colposcopy test. A colposcopy test is when the gynecologist takes a closer look at the patient's cervix and vagina using a special microscope. Gynecologist in NYC, Dr. Zelmanovich may take samples by doing a small biopsy of the cervix and or vagina, which will also be sent to a pathologist for evaluation.
Discuss Sensitive Issues
The annual exam is an excellent opportunity for the patient and New York City gynecologist, Dr. Anat Zelmanovich to discuss any sensitive issues that are of concern to the woman, such as frequent urination, abnormal bleeding, or painful intercourse.
Important Reminder: This information is only intended to provide guidance, not a definitive medical advice. Please consult ob/gyn gynecologist about your specific condition. Only a trained, experienced board certified gynecologist in a specialized NYC gynecology facility can determine an accurate diagnosis and proper treatment.
Do you have questions about Annual OB GYN exam in NYC? Would like to schedule an appointment with the best Midtown NYC gynecologist, Dr. Anat Zelmanovich of Manhattan Women's Health and Wellness, please contact our office for OBGYN consultation.
Dr. Anat Zelmanovich
,
Gynecologist
OB Gynecologist in Midtown Manhattan, NY
51 East 25th Street, Ste 403
,
New York
,
NY
10010
(Between Madison Ave & Park Ave)
☎
(212) 533-4575
Dr. Anat Zelmanovich
,
Gynecologist
OB Gynecologist in Upper East Side, Manhattan, NY
983 Park Ave, Ste 1D17
,
New York
,
NY
10028
(Between 83th & 84th Street)
☎
(212) 389-1904
Dr. Anat Zelmanovich
,
Gynecologist
OB Gynecologist in Union Square, Manhattan, NY
55 W 17th St Ste 104
,
New York
,
NY
10011
(Between 5th & 6th Avenue)
☎
(212) 378-9985
DISCLAIMER: PLEASE READ CAREFULLY
The information on this website is to provide general guidance. In no way does any of the information provided reflect definitive medical advice and self diagnoses should not be made based on information obtained online. It is important to consult a best in class gynecologist in Midtown regarding
ANY and ALL
symptoms or signs as it may a sign of a serious illness or condition. A
thorough consultation
and examination should
ALWAYS
be performed for an accurate diagnosis and treatment plan. Be sure to call a physician or our New York based Gynecology office today and schedule a consultation with a top Midtown and Upper East Side OBGYN gynecologist.