Vaginoplasty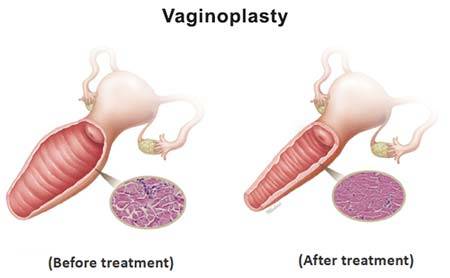 As the name suggests, a vaginoplasty is a plastic surgery procedure for vaginal reconstruction. This is not the same thing as a vulvoplasty. You may have a number of reasons for wanting a vaginoplasty, but there are two primary procedures offered in gynecologist in Midtown, Dr. Zelmanovich:
Cosmetic vaginal surgery, which includes both medical reasons (such as repairing damage from trauma or childbirth) and truly cosmetic reasons (such as wanting a more attractive vagina to improve your self-esteem)
Vaginal tightening surgery, which is a specific surgery to reduce the size of your vaginal opening, which may have been stretched from childbirth or other causes, including age and lack of muscle tone — similar to a perinioplasty.
Both types of surgery are considered "vaginal reconstruction" or "vaginal rejuvenation." The procedure, which tightens the vaginal opening and inner vaginal walls, can restore full feeling and by extension, sexual satisfaction for both you and your partner. If it's appropriate, you can have a vaginoplasty and a labiaplasty at the same time. Both are outpatient procedures and are performed in the in a specialized NYC gynecology center, meaning you can recover at home.
According to the American Society for Aesthetic Plastic Surgery, vaginal rejuvenation or vaginoplasty is gaining popularity in the United States faster than almost any other plastic surgery procedure. The number of procedures rose 64 percent from 2012 to 2013 and 49 percent from 2013 to 2014. Two of the reasons cited were more awareness and better education.
Why Get a Vaginoplasty
A vaginoplasty is simply a physical change to tighten your vagina. It won't solve any of your emotional issues or sexual hang-ups. As you age, your vagina, like your other muscles, tends to weaken. As a result, sex becomes less fulfilling because the sensation isn't as intense. A vaginoplasty can restore sensations, making sexual intercourse a rich experience again.
Most of the women who opt for a vaginoplasty are older, in their 30s to their 50s. Many have had children and don't want any more. A vaginoplasty doesn't prevent you from having more children, but childbirth can undo the work of your gynecological plastic surgeon. And while it's possible to get a second vaginoplasty, the procedure carries more risks and uncertainty.
Risks and Complications of a Vaginoplasty
All surgeries, especially those for which you must be sedated, carry some risk. But outpatient procedures like a vaginoplasty are no more risky than operations in a hospital. In fact, outpatient specialized gynecology nyc surgery has some distinct advantages over hospital procedures.
The most common (but still rare) complications involve:
Excess bleeding
An infection
Noticeable scarring
Necrosis (tissue death)
An allergic reaction to the anesthesia
Inflammation
You're far more likely to develop any one of these symptoms during and after pregnancy. In fact, vaginoplasty recovery is often less stressful than delivering your second child, even though vaginoplasty is a more complex procedure.
The Vaginoplasty Procedure
Vaginal tightening surgery is a complex surgical procedure that often takes between one and two hours. You should meet your gynecologist to discuss your goals before you get it. A vaginoplasty is not a reversible procedure. The surgery is often performed traditionally with a scalpel, but lately, laser vaginoplasty has become more popular in the U.S. The results are not compromised in either case.
During the procedure, you'll be unconscious, either through general anesthesia or through sedation. To tighten the inner walls of your vagina, your surgeon makes a diamond-shaped incision from your perineum (the base of your vagina, between it and your anus) into the inner floor of your vaginal lining. After removing the excess tissue, the gynecologist, Dr. Zelmanovich in Midtown Manhattan pulls the muscles together to fill that space. Your vaginal opening, called the introitus, is tightened as well, usually to one-and-a-half or two inches.
Post-Operative Expectations
Recovering from a vaginoplasty is similar to recovering from an episiotomy performed during a vaginal delivery for childbirth. Your body should respond well in time, although it may take three months or longer for a full vaginoplasty recovery — longer if you've also had a labiaplasty at the same time.
After several hours under the watchful eyes of the recovery gynecology team, you're sent home (with a friend or family member to drive), assuming no complications. Initially, you'll be in pain from the physical effects of the surgery, but that pain decreases as you heal. You'll receive a prescription for pain medication to help you through the first week.
Your Vaginoplasty Recovery
Your gynecologist will schedule a follow-up visit, after either the first or second week, to check your healing progress. At that point, as you're ramping up your activities, you may be advised to begin an exercise therapy, such as Kegel exercises, to strengthen your recovering muscles.
Your surgeon always provides post-operative instructions that you should follow to the letter. These instructions tell you what you can and can't do during your vaginoplasty recovery. For example, you can apply an ice pack to decrease the swelling, but you cannot have sex or use tampons. You should shower to keep the external incision clean. It's recommended that you dab the area dry and apply antibiotic ointment.
The initial swelling and bruises usually dissipate after two days, although you're likely to be tender and sore for up to two weeks. You should gradually increase your activities once you can stand without pain. You may not have sex after vaginoplasty or do anything that penetrates your vagina for six weeks. With your gynecologist's permission, you may return to work after three to five days, depending on your job since you still cannot do any strenuous exercise.
Vaginoplasty Results
This procedure tightens your vagina's opening and inner chamber, which increases the friction during sex. The result is more pleasurable sex. According to plastic surgeons across the country, the procedure is gaining popularity because it works. Women have reported improved self-confidence in their bodies and greater self-esteem in their lives.
Every woman is different, of course, but the goal of a vaginoplasty is a tighter vagina that provides more sensations. You may have some scars, but they shouldn't be noticeable to your partner, and they should fade in time. A good gynecological surgeon hides scars in the natural folds of your skin, where they'll be less noticeable.
Important Reminder: This information is only intended to provide guidance, not a definitive medical advice. Please consult obgyn doctor about your specific condition. Only a trained, experienced board certified gynecologist in a specialized NYC gynecology center can determine an accurate diagnosis and proper treatment.
Do you have questions about plastic vaginoplasty surgery or vaginal reconstruction procedure? Would like to schedule an appointment with an internationally recognized, best rated OBGYN specialist in Midtown NYC, Dr. Anat Zelmanovich of Manhattan Women's Health and Wellness, please contact our office for OBGYN consultation.
Dr. Anat Zelmanovich
,
Gynecologist
(
Gynecologist NYC
, Midtown OB/GYN)
51 East 25th Street, Ste 403
,
New York
,
NY
10010
(Between Madison Ave & Park Ave)
☎
(212) 533-4575
Dr. Anat Zelmanovich
,
Gynecologist
(
Gynecologist NYC
, Upper East Side OB/GYN)
983 Park Ave, Ste 1D
,
New York
,
NY
10028
(Between 83th & 84th Street)
☎
(212) 427-8761
Dr. Anat Zelmanovich
,
Gynecologist
(
Gynecologist NYC
, Union Square OB/GYN)
55 W 17th St Ste 104
,
New York
,
NY
10011
(Between 5th & 6th Avenue)
☎
(212) 378-9985
DISCLAIMER: PLEASE READ CAREFULLY
The information on this website is to provide general guidance. In no way does any of the information provided reflect definitive medical advice and self diagnoses should not be made based on information obtained online. It is important to consult a best in class gynecologist in Midtown regarding
ANY and ALL
symptoms or signs as it may a sign of a serious illness or condition. A
thorough consultation
and examination should
ALWAYS
be performed for an accurate diagnosis and treatment plan. Be sure to call a physician or our Gynecology NYC office today and schedule a consultation with a top Midtown OBGYN gynecologist.