Tubal Ligation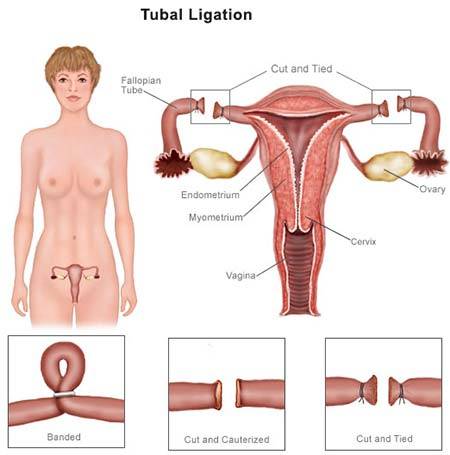 A permanent form of birth control, tubal ligation — also known as tubal sterilization — is the technical term for what is commonly called "having your tubes tied." Basically, your Midtown gynecologists or your local gynecological surgeon cuts both of your fallopian tubes that normally feed into your uterus, sealing them off. This surgical procedure blocks pregnancy from occurring, permanently.
Tubal ligation prohibits your eggs from ever reaching your uterus, where sperm can fertilize them. And it stops sperm from getting anywhere near your eggs. At the same time, tubal ligation has no impact on your cycle.
Pregnancy after tubal ligation has less than a one percent chance of occurring. The younger you are when you get the procedure, however, the greater your chance of a tubal ligation pregnancy. Tubal ligation pregnancy statistics bear this out, with less than 1 in 100 odds.
When to Get a Tubal Ligation
You can choose to get this procedure any time, as long as you remember it will permanently stop you from getting pregnant. So you shouldn't get tubal ligation until you're done having children. You can even have one right after vaginal childbirth or a C-section.
A tubal ligation is the female equivalent of a vasectomy for a man. In fact, when considering a vasectomy vs tubal ligation, they both have similarities:
Both are surgical procedures that lead to permanent infertility.
Both are common procedures that have proven results.
Both involve cutting and tying off tubes (the fallopian for women, the vas deferens for men).
It's possible to have tubal ligation reversal, just like vasectomy reversal, but both require further surgery and neither works all the time.
The best time to get tubal ligation is when you're having your period or right after. You can't be pregnant when you have the surgery. Your OBGYN may give you a particularly effective test right before your operation to confirm that you're not pregnant.
Pros and Cons of Tubal Ligation
Talk to your local Midtown ob gyn NYC specialists or Dr. Zelmanovich. You'll find benefits and risks to getting tubal ligation surgery. You need to be sure it's the right decision for you because of its permanent nature. Don't make your decision lightly.
Besides permanently stopping you from getting pregnant, this sterilization procedure has other benefits, such as:
Once you have it done, you'll no longer need to use any other birth control method.
Unlike other contraceptives, tubal ligation has no effect on your menstrual cycle.
Studies have shown that the procedure actually lessens your chances of getting ovarian cancer.
Because tubal ligation is a surgery (even though it's minimally invasive), it requires you to be unconscious. Therefore, it carries certain risks. Tubal ligation complications include:
You can experience an allergic reaction to the anesthetic.
The surgery can cause inadvertent harm to your bladder or rectum.
Major blood vessels can be damaged by mistake.
You may experience an extended period of abdominal or pelvic pain.
As with any surgery, there's always the chance of infection.
The Tubal Ligation Procedure
The tubal ligation surgery takes about a half hour. It can be done as an outpatient procedure, but that means you need to bring a responsible friend or family member with you to drive you home. During the operation, you'll be under a general anesthetic. Once you're out, the procedure can begin.
Your OBGYN fills your abdomen with a harmless gas, such as carbon dioxide, through a small incision in your navel (unless the procedure takes place after a C-section, when the existing incision is used).
Your doctor inserts a laparoscope through the incision. The laparoscope is a thin tube that provides a view to your fallopian tubes.
A second small incision allows the necessary surgical instruments, such as forceps or scissors, to pass.
The OBGYN then severs or squeezes closed each of your fallopian tubes to seal in the remaining eggs. Sometimes, plastic clips complete the seal.
The tools and added gas are withdrawn through the incisions.
Recovery from Tubal Ligation
At a minimum, you need two to five days to recover from tubal ligation, during which time you can relax in the comfort of your own home. You're not allowed to bathe for the first 48-hour period. Normally, you'll experience some pain, which you can treat with acetaminophen (such as Tylenol). Don't take any aspirin or ibuprofen, though, since they are blood-thinning agents.
As with every surgery, you may be swollen and sore at the incision points, even though they're small. Don't strain yourself or your abdomen during this time. You can't do any heavy lifting or impact activities (such as jumping or running) for one to two weeks. You also must abstain from sex for the same one-to-two-week period.
Tubal Ligation Side Effects
Some possible side effects from tubal ligation include:
A fever of 100.4 degrees Fahrenheit or higher
Abdominal cramping
Severe pain that doesn't go away and worsens over time
Bleeding or discharge from your incisions that doesn't stop
A feeling of fatigue
Bouts of dizziness or lightheadedness
Pain in one or both shoulders
Unusual gas or bloating
If you experience any of these severe symptoms, contact your OBGYN right away. Also, if you believe you're pregnant during this time, you must call your doctor as soon as possible.
Post Tubal Ligation Syndrome (PTLS)
PTLS is another possible tubal ligation side effect. It's often caused by damage to surrounding tissues and organs, such as your ovaries or uterus, during your surgery. Damaged blood vessels, for example, can have significant consequences. Post tubal ligation syndrome can also result in a hormone imbalance, but this condition can be confirmed with a test from your OBGYN.
Other conditions that either cause PTLS or appear because of it include:
Isolated ovarian syndrome, when your ovaries lose at least part of their blood supply
Atrophic ovaries, when your ovaries lose all blood supply and start to atrophy
Loss of bone density
Increased potential for heart disease
The symptoms of PTLS are numerous, but most point to other conditions as the cause. If you've recently had tubal ligation, make sure to tell your doctor when reporting your symptoms.
Important Reminder: This information is only intended to provide guidance, not a definitive medical advice. Please consult ob/gyn doctor about your specific condition. Only a trained, experienced board certified gynecologist can determine an accurate diagnosis and proper treatment.
Do you have questions about Tubal Ligation or sterilization procedure? Would like to schedule an appointment with an internationally recognized, best rated GYN specialist in Midtown NYC, Dr. Anat Zelmanovich of Manhattan Women's Health and Wellness, please contact our office for OBGYN consultation.
Dr. Anat Zelmanovich
,
Gynecologist
(
Gynecologist NYC
, Midtown OB/GYN)
51 East 25th Street, Ste 403
,
New York
,
NY
10010
(Between Madison Ave & Park Ave)
☎
(212) 533-4575
Dr. Anat Zelmanovich
,
Gynecologist
(
Gynecologist NYC
, Upper East Side OB/GYN)
983 Park Ave, Ste 1D
,
New York
,
NY
10028
(Between 83th & 84th Street)
☎
(212) 427-8761
Dr. Anat Zelmanovich
,
Gynecologist
(
Gynecologist NYC
, Union Square OB/GYN)
55 W 17th St Ste 104
,
New York
,
NY
10011
(Between 5th & 6th Avenue)
☎
(212) 378-9985
DISCLAIMER: PLEASE READ CAREFULLY
The information on this website is to provide general guidance. In no way does any of the information provided reflect definitive medical advice and self diagnoses should not be made based on information obtained online. It is important to consult a best in class gynecologist in Midtown regarding
ANY and ALL
symptoms or signs as it may a sign of a serious illness or condition. A
thorough consultation
and examination should
ALWAYS
be performed for an accurate diagnosis and treatment plan. Be sure to call a physician or our Gynecology NYC office today and schedule a consultation with a top Midtown OBGYN gynecologist.