Labiaplasty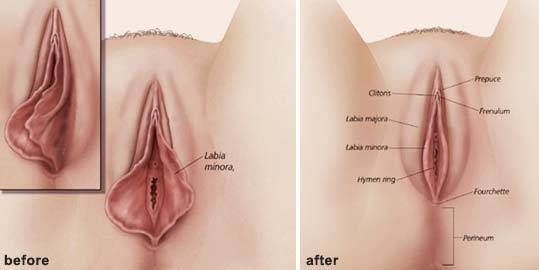 A labiaplasty is a plastic surgery procedure performed to decrease your labia minor, the fleshy lips on both sides of your vagina. You may seek a labiaplasty for aesthetic reasons or because the excess skin causes discomfort during sex or exercise. It also may limit the clothes you can wear, such as certain bathing suits, skinny jeans or leggings.
The procedure has become more and more popular over the past 20 years. In 2013 alone, more than 5,000 American women had the procedure, which represents a 20 to 30 percent increase from 2012. The number of surgeons offering the procedure has also increased in the past few years, according to the American Society for Aesthetic Plastic Surgery.
Also known as a labia reduction, the procedure is considered an elective surgery for most women. Even though it may significantly affect your self-image, you usually require a valid medical consideration to have the procedure covered by insurance. For example, needing to repair your labia minor torn following a pregnancy and delivery could be grounds for insurance coverage.
With a labiaplasty, your gynecological surgeon can decrease and reshape your labia if they are asymmetrical or larger than normal. Some women opt to have both a labiaplasty and a vaginoplasty at the same time. Also called a vaginal rejuvenation, a vaginoplasty tightens the width of your vagina by removing excess skin. Both procedures can be done safely in the same operation.
Before Your Procedure
To prepare for your labiaplasty surgery, your doctor gives you a list of things to do, starting up to two weeks before your procedure. For example, you must:
Stop taking some medication (such as aspirin and anti-inflammatories)
Don't take your usual vitamins or supplements that may increase bleeding
Stop smoking cigarettes, for a couple weeks both before and after your procedure
Arrange to have someone you trust be there to drive you home after your surgery
Pack loose-fitting clothes to put on after your procedure
Ask your surgeon any lingering questions you have about the procedure or the recovery.
A skilled surgeon can reduce your labiaplasty recovery time and deliver great results. Your labiaplasty results depend on a number of factors, including what you wanted when you started. Keep your goals realistic by discussing them with your surgeon prior to getting your procedure done.
Labiaplasty Procedure Steps
The very first step is to schedule a consultation with your gynecologist both to discuss what your goal is for the surgery and to ascertain that you're a good candidate for the procedure. Labiaplasty is an outpatient procedure — you go in in the morning and go home that day. You're given a general anesthetic or a local anesthetic with sedation (such as a valium). You'll be unconscious during the procedure and won't be able to drive yourself home, so bring a friend or family member.
Your gynecological surgeon then performs the surgery using one of three techniques:
The Trim method, which reduces the labia directly by trimming the edge of the lips to the desired length — this method isn't used much anymore since the outcome is less esthetically satisfactory, as the original color and shape are altered
The Wedge method, which saves the edges of your labia while reducing the length by cutting a wedge shape from the lower lips, thus preserving the original lip edges while reducing the overall size
The Extended Wedge method can also reduce the hood over your clitoris to attain pleasing contours — if your clitoris protrudes too much, sometimes that can be corrected as well
Which technique your gynecologist uses depends on what best suits you and your goals. In all cases, the surgeon removes the unwanted labia tissue with either a scalpel or a laser. Laser labiaplasty has become much more common in recent years. Afterward, your new labia are held together with dissolving stitches to allow you to heal. The whole procedure takes between one and two hours.
Labiaplasty Risks and Side Effects
Labiaplasty is a surgery, but even minor surgeries carry risk, especially those for which you need general anesthesia. You're in good hands with a competent NYC gynecology team looking after you during the procedure. Labiaplasty risks include:
Being allergic to the anesthesia
Getting a serious blood clot
Experiencing excessive bleeding
Getting an infection at the surgical site
Developing noticeable and undesirable scars
Having less feeling afterward, although the surgery doesn't approach your clitoris
Immediately after your procedure, your labia will be swollen, bruised and sore. They may stay this way for two days to two weeks. During this time, urinating and maybe even sitting can be uncomfortable. You can reduce the pain by urinating standing up in your shower. You'll be given pain medication to help you through the pain and antibiotics to fight any infections.
Other labiaplasty complications are rare. The three main complications, as listed above, are: bleeding, Infection, and scarring. You can usually avoid these with a competent surgeon.
Your Labiaplasty Recovery
While every woman heals at a different rate, you get to recover in your own home, since a labiaplasty is an outpatient procedure. Once you're at home, follow your surgeon's instructions for the post-surgical period as you heal. Instructions may include:
How to keep the surgical area clean and how to change your dressings
How to apply any topical medications you've been prescribed
How and when to take the prescription pain medication
Which activities to do at which points in your recovery; approved activity helps you heal faster
What to keep your eye on; labiaplasty complication are rare, but you should be mindful of them
When to come back for a follow-up examination to make sure you're doing as great as you feel
Most women are often able to return to work in two to five days. You'll have to wear loose underwear and clothing for up to two weeks, until you're feeling better. You can expect to be fully healed six weeks after you've had the procedure; however most gynecologists recommend that you wait six to eight weeks before having sex after labiaplasty.
Important Reminder: This information is only intended to provide guidance, not a definitive medical advice. Please consult obgyn doctor about your specific condition. Only a trained, experienced board certified gynecologist in specialized gynecology nyc center can determine an accurate diagnosis and proper treatment.
Do you have questions about Labia Surgery or Labiaplasty procedure? Would like to schedule an appointment with an internationally recognized, best rated OBGYN specialist in Midtown NYC, Dr. Anat Zelmanovich of Manhattan Women's Health and Wellness, please contact our office for OBGYN consultation.
Dr. Anat Zelmanovich
,
Gynecologist
(
Gynecologist NYC
, Midtown OB/GYN)
51 East 25th Street, Ste 403
,
New York
,
NY
10010
(Between Madison Ave & Park Ave)
☎
(212) 533-4575
Dr. Anat Zelmanovich
,
Gynecologist
(
Gynecologist NYC
, Upper East Side OB/GYN)
983 Park Ave, Ste 1D
,
New York
,
NY
10028
(Between 83th & 84th Street)
☎
(212) 427-8761
Dr. Anat Zelmanovich
,
Gynecologist
(
Gynecologist NYC
, Union Square OB/GYN)
55 W 17th St Ste 104
,
New York
,
NY
10011
(Between 5th & 6th Avenue)
☎
(212) 378-9985
DISCLAIMER: PLEASE READ CAREFULLY
The information on this website is to provide general guidance. In no way does any of the information provided reflect definitive medical advice and self diagnoses should not be made based on information obtained online. It is important to consult a best in class gynecologist in Midtown regarding
ANY and ALL
symptoms or signs as it may a sign of a serious illness or condition. A
thorough consultation
and examination should
ALWAYS
be performed for an accurate diagnosis and treatment plan. Be sure to call a physician or our Gynecology NYC office today and schedule a consultation with a top Midtown OBGYN gynecologist.