We offer a comprehensive Obstetrics & Gynecology care in NYC for women of all ages. At our obgyn clinic of we provide a full range of gynecology services, from annual check-ups and routine pap smears to treatment of Pain During Sex and gyn procedures, surgeries performed in our office or in the hospital. Our state of the art gynecology NYC facility in Midtown Manhattan equipped with a latest obgyn equipment.
Dyspareunia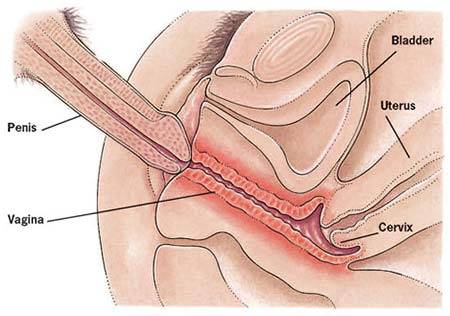 Many women experience pain during sex at some point in their lives. It happens so often that there's even a medical term for it — dyspareunia. The reasons for the pain vary greatly and range from purely psychological to actual structural issues that make sex physically burdensome. Realistically, dyspareunia refers to pain during sexual intercourse that is:
Persistent
Recurring
Happens before, during or after sex
However you perceive your pain, if it continues to happen, there isn't any need to keep quiet about it. Most likely, your pain is caused by some underlying issue that may be resolved with a simple treatment. Even if you are struggling with psychological issues surrounding sex, it's a good idea to have your Midtown gynecologist rule out any physical causes so that you can seek appropriate therapy.  Dyspareunia should always be evaluated with a thorough consultation and examination by a physician  for an accurate diagnosis and treatment plan to exclude it as a symptom or sign of a serious illness or condition.
Sex Hurts
If you have trouble talking about sex with your NYC OBGYN, that's normal. But your gynecologist's trained to listen and understand your concerns. Plus, if you don't talk about the issue, you may never find relief for your intimacy problems. You also may be harboring a more complicated physical condition that could worsen without sufficient treatment.
Some of the symptoms of dyspareunia that your Midtown gynecologist recognizes include:
When your vagina burns after sex
Pain only when sexual penetration occurs
Pain with any kind of penetration, including putting in a tampon
New pain that you never experienced while having sex before
Pain deeper within your vagina that happens with thrusting
Aching pain
Pain that leaves you throbbing for hours after sex
Possible Causes
The causes of pain before, during and after sex are quite varied and depend on a host of issues. You may have emotional pain, entry pain, deep pain or some other types of pain.
Emotional pain is one of the most difficult to diagnose because you may have pain one time while having sex and then tighten up the next time it begins. That fear alone can lead to additional pain. You may stop having sex to avoid potential pain. Other possible causes may include:
Stress that leads to you being too rigid for your vagina to relax. A rigid or tight vagina results in tight pelvic floor muscles that can cause painful during sex.
Distracting psychological issues also may not allow you to relax and form the lubrication required for comfortable sexual relations. Depression, anxiety, anger, fear of intimacy, concerns about your appearance and a plethora of other issues can interfere with your sex life.
A history of sexual abuse. This usually isn't common when you experience dyspareunia, but is possible.
Entry pain that only happens at penetration is one of the most commonly heard complaints from women with dyspareunia. This can happen if:
You had some sort of accident or injury to your vagina.
You still have irritation from a previous surgery or procedure.
You have an infection or some other sort of skin disorder like eczema.
You have a congenital disorder that you've had since you were born.
You're suffering from vaginismus, which causes spasms in your vagina wall that make penetration very painful.
You aren't well lubricated, a condition that can occur due to low estrogen levels or breast-feeding. Certain medications — such as antihistamines, anti-depressants, sedatives, high blood pressure pills and oral contraceptives — can leave your vagina abnormally dry and unable to produce the lubrication needed to prevent penetration pain.
Deep pain often becomes more pronounced when you try certain sexual positions. Causes for deep or thrusting pain can include:
Other issues you should report to your gynecologist include:
Pain after sex that might include cramping
Burning after sex that might indicate an infection or herpes
Pelvic pain after sex that could indicate the presence of a tumor
Internal vaginal pain that most likely indicates you've got an infection
Cervix pain during sex, which may indicate you have problems with your uterus
Preparing for Your Examination
Before you go to your gynecologist appointment to find out why you're experiencing pain, take notes and make a list of questions to ask. Midtown gynecologist, Dr. Zelmanovich will ask you:
What your pain feels like, when it happens, how severe it is and how long it lasts
What kinds of medications you're taking, including a list of vitamins and supplements
Whether the pain happens every time you have sex or just sometimes
If you have similar pain at other times when you're not engaged in sex
Whether you've discussed the problem with your partner
How much stress are you under due to this problem
Tests to Find a Diagnosis
Depending on your answers, your gynecologist in Midtown may perform other tests, such as blood tests or imaging tests. Your OBGYN always takes a complete medical history, asking you about previous pregnancies and your sexual history, including any surgeries you may have had.
You'll most likely have a pelvic exam next. By looking and feeling inside your vagina, your gynecologist can feel any abnormalities by applying light pressure to your belly and your genitals. He may insert a speculum to open your vaginal walls for a better view, but if you have pain during sex, this may be too painful. Tell your gynecologist if the pain is unbearable and he'll stop.
Dyspareunia Treatments in Midtown NYC
Certainly, if your OBGYN in NYC discovers an underlying condition during your visit, treatment may be able to clear up all your pain associated with sexual intercourse. Sometimes, changing the medications you're taking can clear up your issues. If you're post-menopausal, you likely have too little estrogen to lubricate sufficiently and a simple fix of estrogen cream can address that issue.
Counseling, both individual and couples counseling, may help you discover some of the issues preventing you form having comfortable relations with your partner. Restoring effective communication can go a long way to bringing back the joy of sex. Desensitization therapy is another avenue you can explore, which relies on vaginal relaxation exercise. Kegel exercises to strengthen your pelvic floor also may provide relief.
Important Reminder: This information is only intended to provide Gynecology guidance, not a definitive medical advice. Please consult obgyn doctor in Midtown NYC about your specific condition. Only a trained, experienced board certified gynecologist or certified Gynecology specialist can determine an accurate diagnosis and proper treatment.
Do you have questions about Dyspareunia or Pain During Sex? Would like to schedule an appointment with the top rated Gynecologist, Dr. Anat Zelmanovich, please contact our gyn NYC office.
Dr. Anat Zelmanovich
,
Gynecologist
(
Gynecologist NYC
, Midtown OB/GYN)
51 East 25th Street, Ste 403
,
New York
,
NY
10010
(Between Madison Ave & Park Ave)
☎
(212) 533-4575
Dr. Anat Zelmanovich
,
Gynecologist
(
Gynecologist NYC
, Upper East Side OB/GYN)
983 Park Ave, Ste 1D
,
New York
,
NY
10028
(Between 83th & 84th Street)
☎
(212) 427-8761
Dr. Anat Zelmanovich
,
Gynecologist
(
Gynecologist NYC
, Union Square OB/GYN)
55 W 17th St Ste 104
,
New York
,
NY
10011
(Between 5th & 6th Avenue)
☎
(212) 378-9985
DISCLAIMER: PLEASE READ CAREFULLY
The information on this website is to provide general guidance. In no way does any of the information provided reflect definitive medical advice and self diagnoses should not be made based on information obtained online. It is important to consult a best in class gynecologist in Midtown regarding
ANY and ALL
symptoms or signs as it may a sign of a serious illness or condition. A
thorough consultation
and examination should
ALWAYS
be performed for an accurate diagnosis and treatment plan. Be sure to call a physician or our Gynecology NYC office today and schedule a consultation with a top Midtown OBGYN gynecologist.