Irritable Bowel Syndrome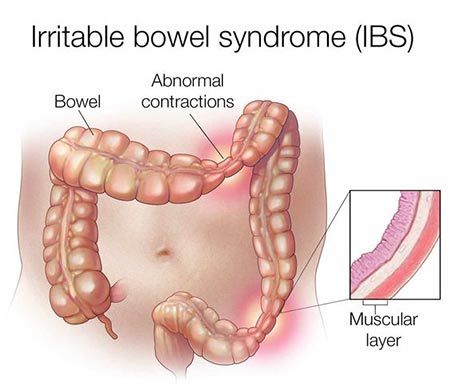 Irritable bowel syndrome is an umbrella term that covers a variety of symptoms, many of which mimic other conditions that women regularly experience, such as dysmenorrhea during a monthly menstrual cycle. You may be diagnosed with irritable bowel syndrome, commonly referred to as IBS, if you have the common symptoms of the disease constantly for at least three months.
The symptoms your doctor considers during the diagnostic period include:
Severe cramps
Gas
Nausea
Bloating
Diarrhea
Constipation
Stomach pain
Stool mucus
Feeling like you still have to go after you've had a bowel movement
Feeling of fullness even when you haven't had a lot to eat
Signs and symptoms of abdominal and pelvic pain should always be managed with a thorough consultation and examination by your gynecologist for an accurate diagnosis and treatment plan to exclude an underlying serious condition.
Gynecologist NYC Dr. Zelmanovich of Manhattan Women's Health & Wellness offer a comprehensive Obstetrics & Gynecology care in NYC for women of all ages. At our obgyn clinic of we provide a full range of gynecology services, from annual check-ups and routine pap smears to IBS treatment and gyn procedures, surgeries performed in our office or in the hospital. Our state of the art gynecology NYC facility equipped with a latest obgyn equipment.
The Female Version
Women often go through these symptoms during their regular periods. But women with IBS tend to feel them more severely during their periods. And while irritable bowel syndrome is very uncomfortable, it won't lead to any serious consequences like cancer. Additionally, it typically doesn't lead to any permanent colon damage.
As a matter of fact, according to the U.S. Department of Health and Human Services, IBS is one of the most diagnosed conditions in the country, with as many as 20 percent of the entire adult population struggling with the discomfort. If you suffer from IBS, you're not alone.
Causes Unknown
The causes of IBS aren't known, but many healthcare practitioners believe they may be linked to the body's immune system. The different cells and proteins that make up your immune system begin to act abnormally when you have IBS. Under normal circumstances, your immune system rushes to produce virus- and bacteria-fighting materials when they're detected in your body. After the threat is neutralized, your body shuts off the major production.
In people with IBS, those super-producing cells don't shut off, but instead keep producing like they're still fighting an infection. This persistent immune-fighting production line leads to inflammation that causes you the pain and discomfort associated with IBS. Symptoms of IBS also are associated with irregular colon muscle tightening.
Irritable bowel syndrome also tends to run in families, so genetics may play a role, although a good portion of the abnormality is due to lifestyle as well, something that's taught at an early age and often practiced throughout adulthood. It's a myth, however, that stress and eating certain foods can lead to IBS.
Are You at Risk?
IBS is an equal opportunity condition that can strike anyone. There are, however, groups that seem to present with the stomach disorder more often than others. Women and people with a family history of IBS are high on the list, while others that are at a higher risk include:
Caucasians
Urban dwellers
People of Jewish decent
Those living in developing countries
Smokers
The symptoms often show up early in life too. Many with IBS begin showing signs of the disease between the ages of 15 and 30. It's important to note that irritable bowel syndrome is not the same as irritable bowel disease (IBD). IBD is a much more serious condition that can lead to such diseases as Crohn's disease, colon cancer or colitis. IBS is much more benign and not considered life threatening.
Diagnosing Your Discomfort
Your NYC OBGYN doctor can best diagnose your problems with a complete and thorough medical history. To assist him in finding the right diagnosis and treatment, keep a close record of your symptoms — when they occur, how often they appear, how long they last and how severe they get. Write down what you were doing when pain struck. Additionally, find out as much as you can about your family history with IBS.
Since there are no definitive tests to confirm an IBS diagnosis, your doctor may perform a rectal exam in addition to a general exam to test the activity of your colon. A colonoscopy is another test that can help your doctor confirm the health of your colon. Other related conditions often associated with IBS can help your doctor narrow the cause of your abdominal pain. These may include:
Anemia or iron deficiency
Unexplained weight loss
Diarrhea that wakes you up at night
Family history of celiac disease, inflammatory bowel disease or colorectal cancer
Lactose intolerance
Treatment for IBS
Once you have irritable bowel syndrome, your main objective should be to eliminate the triggers that cause attacks. Treatment and prevention go hand in hand and may consist of changing your diet, learning how to deal with stress and taking medication.
Medications often prescribed for treating IBS symptoms should be used as prescribed. It's also important to tell your doctor about other medications you're taking — including supplements, herbs and vitamins. To control IBS symptoms, you may be directed to try:
Lubiprostone, a medicine to treat women with a form of IBS that primarily causes constipation
Fiber supplements like Metamucil that help control constipation
Antidepressants that may help alleviate stress that cause IBS symptoms
Anti-diarrhea medications such as Imodium
Antispasmodic supplements such as peppermint oil
Dietary Changes Required
Your own food and symptom diary is the best guide you can use to build a healthy diet for foods that won't lead to IBS flare-ups. Food doesn't cause IBS, but women with IBS often have differing trigger foods such as:
Alcohol
Some fresh fruits or vegetables
Dairy products including milk, ice cream and cheeses
Caffeine
Artificial sweeteners
Carbonated drinks
Strive for an overall diet that consists of high-fiber foods. Make sure you get sufficient water; at least eight glasses a day are recommended. Stay away from large meals. This advice is the best plan for treating IBS.
Then Take It Easy
Stress is a major trigger for many people with IBS. To reduce stress, consider:
Counseling, such as cognitive behavioral therapy that's aimed at lowering your stress
Hypnosis to help change your attitude about certain stressful thoughts and situations
Deep breathing that you can learn to practice as you feel stress coming on
Relaxation techniques, such as yoga and meditation
Biofeedback that can teach you how to slow down your heart rate and relax your muscles
You can also find support groups online or through your doctor's office to meet other people dealing with IBS. Share tools and techniques for dealing with the disorder, as well as get support from others who know what you're going through.
Signs and symptoms of abdominal and pelvic pain should always be managed with a thorough consultation and examination by your gynecologist for an accurate diagnosis and treatment plan to exclude an underlying serious condition.
Important Reminder: This information is only intended to provide gynecology guidance, not a definitive medical advice. Please consult ob/gyn doctor about your specific condition. Only a trained, experienced board certified gynecologist in NYC or certified gynecology specialist can determine an accurate diagnosis and proper treatment.
Do you have questions about Pelvic Pain or Irritable Bowel Syndrome (IBS)? Would like to schedule an appointment with one of the top rated NYC Pelvic Doctor and Gynecologist, Dr. Anat Zelmanovich, please contact our office.
Dr. Anat Zelmanovich
,
Gynecologist
(
Gynecologist NYC
, Midtown OB/GYN)
51 East 25th Street, Ste 403
,
New York
,
NY
10010
(Between Madison Ave & Park Ave)
☎
(212) 533-4575
Dr. Anat Zelmanovich
,
Gynecologist
(
Gynecologist NYC
, Upper East Side OB/GYN)
983 Park Ave, Ste 1D
,
New York
,
NY
10028
(Between 83th & 84th Street)
☎
(212) 427-8761
Dr. Anat Zelmanovich
,
Gynecologist
(
Gynecologist NYC
, Union Square OB/GYN)
55 W 17th St Ste 104
,
New York
,
NY
10011
(Between 5th & 6th Avenue)
☎
(212) 378-9985
DISCLAIMER: PLEASE READ CAREFULLY
The information on this website is to provide general guidance. In no way does any of the information provided reflect definitive medical advice and self diagnoses should not be made based on information obtained online. It is important to consult a best in class gynecologist in Midtown regarding
ANY and ALL
symptoms or signs as it may a sign of a serious illness or condition. A
thorough consultation
and examination should
ALWAYS
be performed for an accurate diagnosis and treatment plan. Be sure to call a physician or our Gynecology NYC office today and schedule a consultation with a top Midtown OBGYN gynecologist.