Endometritis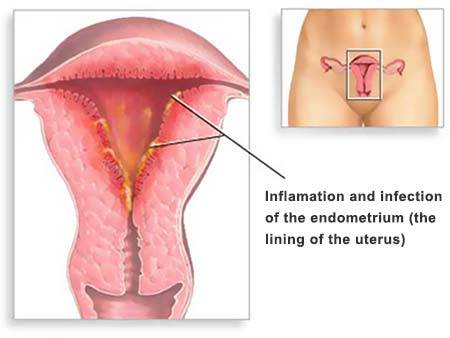 Endometritis, not to be confused with the more common condition of endometriosis, refers to an irritation or an infection that happens in the lining of your uterus. The uterus, clinically known as the endometrium, can become infected in a variety of ways, including from:
Sexually transmitted diseases such as gonorrhea or chlamydia
Normal vaginal bacterium
Childbirth complications
Amniotic fluid (if a fetus has a bowel movement before birth, for example)
A miscarriage
A side effect of tuberculosis
Other pelvic infections
The endometritis infection is most common after:
A long, difficult labor
A caesarian delivery (C-section)
Endometritis should always be managed with a thorough consultation and examination by your gynecologist for an accurate diagnosis and treatment plan.
Gynecologist Dr. Zelmanovich of Manhattan Women's Health & Wellness offer a comprehensive Obstetrics & Gynecology care in NYC for women of all ages. At our obgyn clinic of we provide a full range of gynecology services, from annual check-ups and routine pap smears to Endometritis treatment and gyn procedures, surgeries performed in our office or in the hospital. Our state of the art NYC gynecology facility equipped with a latest obgyn equipment.
Risks Are Sometimes Unavoidable
Obviously, you want to make sure that the facility and medical practice you rely on to handle your pregnancy and delivery are sterile and always clean. While infections are often unavoidable, poorly kept medical facilities can play a role. Infections are also possible if you give birth outside a hospital or clean home environment.
Follow up with your OBGYN when you feel any kind of discomfort after childbirth to help reduce risks. Practicing safe sex also helps reduce your risk of developing endometritis. Additionally, other procedures and situations can increase your risk of uterine infections, including:
After pelvic procedures such as:
Anemia reduces the amount of red blood cells in your system. When you have a C-section or other pelvic procedure, anemia can increase your chances of getting postpartum endometritis.
Steroid medications can have an effect on your immunity as well. You may have to take them to prevent your baby from being born too early, but they do leave you more vulnerable to infection after childbirth.
Regular OBGYN Check-Ups Catch Symptoms
You already know the importance of maintaining a regular check-up schedule when you're pregnant or when you're undergoing treatment for any kind of pelvic disorder. It's during these doctor visits that you should share your concerns over other, seemingly unrelated symptoms you may be having.
After an unsuccessful pregnancy, an emergency delivery or any other difficult labor, it isn't a given that you should continue having problems. Symptoms that may indicate the presence of endometritis can include:
Constipation
Other difficulty with bowel movements
Abdominal swelling
Fever
Abnormal discharge that's foul smelling
Vaginal bleeding
Pain in your pelvic area or uterus
Discomfort during sex
Uneasiness or general lethargy
Feeling ill or nauseous
It's possible that endometritis can come on quickly, however, and lead to severe symptoms that could require emergency treatment. You should call 911 if you:
Have unexplained heavy vaginal bleeding that's not part of your monthly menses
Feel faint or lightheaded, and especially if you actually pass out
Notice your symptoms worsen or if you develop a high fever even after you've seen your obgyn NYC doctor and received an initial treatment for an infection
Getting to a Diagnosis
When you complain of symptoms associated with endometritis following a difficult pregnancy or other procedure, your OBGYN relies on a number of different tests to find the cause of your distress. It's vital that you keep track of your symptoms, when they started, how long they last and how severe they feel so that your obgyn doctor can get a clear picture of your condition.
When performing a physical pelvic exam, the gynecologist Midtown, Dr. Zelmanovich doesn't always hear the abdominal sounds that cause your distress. Discharge may not be at its heaviest during your visit, or the swelling may have receded some in your belly. With a careful recounting of your symptoms, an overview of your medical history, a thorough exam and the following tests, however, an accurate diagnosis can be achieved.
The breadth of tests available to pinpoint the cause of your pain increases the odds that you can find relief soon. Some of the tests that your gynecologist Midtown, Dr. Zelmanovich may order for you include:
Acute endometritis ultrasound
White blood count test (WBC)
Cultures taken and sent to the lab, looking for STDs and other organisms
Erythrocyte sedimentation rate (ESR)
Hysteroscopy to look directly at the lining of your uterus through a tiny scope. A tissue sample of also can be taken from your womb during a hysteroscopy.
CT scan
Microscopic examination of the discharge found (wet prep)
Blood tests
Transvaginal ultrasound
Treatments Abound
Often, you may have been given antibiotics following a pelvic procedure to prevent infection. It's critical that you maintain follow-up visits with your doctor to make sure the medication is working. Endometritis antibiotics can be given to you if you're not already taking some form of antibiotic medicine. Your gynecologist Midtown, Dr. Zelmanovich can change it to a different drug if the current level isn't effective. Usually, you can continue your antibiotic regimen at home in between regular gynecologist visits.
If your symptoms are severe or if they come on right after childbirth, you may be treated in the hospital for the infection. During your stay, you may undergo other procedures to eliminate the endometritis, such as:
Additional rest
Intravenous fluids and antibiotics
Evacuation of the infected tissue
Drainage of any abscesses that have formed
Surgery, if necessary
Prevention and Complications
Not only is it imperative that you get treatment for endometritis to stop the pain and discomfort associated with the uterine infection, but it's also important to prevent further complications. In many cases, complications from endometritis can be as severe as the actual infection itself. Untreated endometritis can lead to:
Infertility
Septic shock
Chronic endometritis, often associated with multiple implant procedures
Formation of abscesses
More pelvic infections or pelvic peritonitis
Septicemia
Death
Of course, take precautions such as choosing the best OBGYN you can find and seeking assurance that you'll be treated in the most sterile environment. But there are other steps that you can take to prevent endometritis and further complications associated with an infection in your uterus. Many best in class obgyn doctors in NYC follow the practice of giving women antibiotics prior to receiving a C-section to drastically reduce the chances of infection.
Most importantly, sexually transmitted infections (STIs) can best be prevented by:
Having relations with partners you trust have been tested for STIs
Making sure your partner uses a condom
Treating sexually transmitted infections early
Confirming that all your partners are treated after you've been diagnosed with endometritis
Endometritis should always be managed with a thorough consultation and examination by your gynecologist for an accurate diagnosis and treatment plan.
Important Reminder: This information is only intended to provide gynecology guidance, not a definitive medical advice. Please consult ob/gyn doctor about your specific condition. Only a trained, experienced board certified gynecologist or certified gynecology specialist can determine an accurate diagnosis and proper treatment.
Do you have questions about Endometritis or Uterine Infection? Would like to schedule an appointment with the top OBGYN in Midtown NYC, Dr. Anat Zelmanovich, please contact our office.
Dr. Anat Zelmanovich
,
Gynecologist
(
Gynecologist NYC
, Midtown OB/GYN)
51 East 25th Street, Ste 403
,
New York
,
NY
10010
(Between Madison Ave & Park Ave)
☎
(212) 533-4575
Dr. Anat Zelmanovich
,
Gynecologist
(
Gynecologist NYC
, Upper East Side OB/GYN)
983 Park Ave, Ste 1D
,
New York
,
NY
10028
(Between 83th & 84th Street)
☎
(212) 427-8761
Dr. Anat Zelmanovich
,
Gynecologist
(
Gynecologist NYC
, Union Square OB/GYN)
55 W 17th St Ste 104
,
New York
,
NY
10011
(Between 5th & 6th Avenue)
☎
(212) 378-9985
DISCLAIMER: PLEASE READ CAREFULLY
The information on this website is to provide general guidance. In no way does any of the information provided reflect definitive medical advice and self diagnoses should not be made based on information obtained online. It is important to consult a best in class gynecologist in Midtown regarding
ANY and ALL
symptoms or signs as it may a sign of a serious illness or condition. A
thorough consultation
and examination should
ALWAYS
be performed for an accurate diagnosis and treatment plan. Be sure to call a physician or our Gynecology NYC office today and schedule a consultation with a top Midtown OBGYN gynecologist.