Uterine Suspension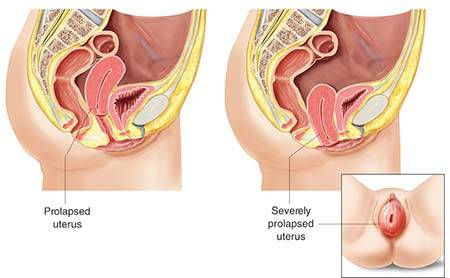 When your uterus drops into your vaginal cavity or even farther — so that it protrudes from your vagina, that's a condition known as a uterine prolapse. Such a condition can cause pain and other persistent symptoms that warrant treatment. While there are stages of uterine prolapse and the more severe stages may require the removal of your uterus, you often have other options, such as uterine suspension.
Uterine suspension is a procedure offered by Midtown Manhattan gynecologist, Dr. Zelmanovich that puts your uterus back into place and holds it there so that it doesn't prolapse again. Your OBGYN actually has many techniques to reattach your uterus in its proper position; the method you both choose will ultimately depend on the details of your specific case — in other words, what's best for you and your goals.
Who Needs a Uterine Suspension?
Obviously, any woman with a uterine prolapse that's not too severe (that is, the uterus is loose and falling out of her vagina) is a good candidate for a uterine suspension. But you may make a better candidate if you have any of the following characteristics:
You're still young (under 45 years old).
You plan to have more children.
Your uterine prolapse is only in Stage 1 or Stage 2, in which your uterus is still inside your vaginal cavity. It's possible to do a uterine suspension with a Stage 3 or Stage 4 prolapse, but it doesn't make you an ideal candidate.
You're not suffering from any other genital maladies, including:
Different Types of Uterine Suspension
When you opt to repair your uterine prolapse — as opposed to removing your uterus in a hysterectomy — you still have more choices to make in consultation with Midtown Manhattan gynecologist, Dr. Zelmanovich. That's because an OBGYN Midtown has different options for how to approach the procedure. For example:
Laparoscopic uterine suspension
Sacrohysteropexy
Uterine suspension for retroverted uterus
All of these procedures are considered uterine suspensions. Some are performed from inside your vagina; others require incisions near your navel. Each operation has its own risks and benefits.
Laparoscopic Uterine Suspension Procedure
Often the first choice for many gynecologists in New York, according to the National Institutes of Health, a laparoscopic procedure is a minimally invasive, external approach. You must be under general anesthesia during this procedure, so you won't be allowed to drive yourself after this outpatient surgery.
A half-inch incision is made in your abdomen, and a laparoscope — a thin tube with a light and a camera — is passed through to your vaginal cavity, where the extent of your uterine prolapse can be assessed. It's possible that you've suffered other prolapsed organs as well, but they can all be addressed through the laparoscopic procedure.
Other surgical tools are inserted in separate one-quarter-inch incisions. You uterus is then repositioned back to its proper location and sewn in place with non-absorbable, permanent sutures to your presacral uterosacral ligaments, strong fibers that attach to bone. They'll hold your uterus in place. This 60-minute procedure ends with closing the incisions, which generally heal well, leaving few scars.
Sacrohysteropexy
This procedure involves supporting your uterus with surgical mesh, implanted permanently into the top of your vaginal cavity. Attached to bone, the mesh simulates the support provided by your own ligaments. This procedure's useful if your ligaments have been weakened by childbirth or other trauma. The National Institutes of Health refer to this procedure as the "Gold Standard" for uterine suspension.
This procedure used to be performed through a large incision in your lower abdomen. Today, it can be accomplished laparoscopically or with a da Vinci robotic sacrocolpopexy. Both of these procedures are much more minimally invasive, which reduces not only the size of the scars you end up with, but also your recovery time.
During this procedure, during which you'll be under anesthesia, the surgical mesh is attached in place to hold your uterus and avoid future prolapse. The mesh doesn't extrude, so you and your partner should never feel it during sexual intercourse.
Uterine Suspension for Retroverted Uterus
This procedure specifically helps women who have a tipped (or retroverted) uterus. Childbirth, endometriosis or uterine fibroids can cause your uterus to tip, which can cause unusual menstrual pain, pain during sex or infertility. Repositioning your uterus is another purpose for uterine suspension, but if your retroverted uterus is also prolapsed, you have two medical issues to resolve.
Both procedures can be combined into one laparscopic surgery. As detailed above (Laparoscopic Uterine Suspension Procedure), the first step is to anchor the prolapsed uterus securely. Then the uterus can be suspended from a round ligament to tilt it forward and keep it there with a procedure called UPLIFT (uterine suspension and positioning by extraperitoneal ligament investment, fixation and truncation). UPLIFT is a fast, effective surgery to fix your uterus in place and maintain its alignment.
Uterine Suspension Complications and Risks
The three different procedures listing above have varying levels of complications. Whenever you go under general anesthesia for surgery, there's always the risk of:
Infection
Excessive bleeding
An unpredictable reaction to the anesthetic
Blood clots
Accidental damage to other organs
Short-term anus bleeding or rectal pain
Temporary constipation
Pain during sex
The more minimally invasive the procedure, though, the fewer the complications because Midtown Manhattan gynecologist, Dr. Zelmanovich disrupts fewer systems. Most complications rarely happen, though — on average between one and 10 percent of the time.
Uterine Suspension Results
With your uterus back in place, you can get pregnant. A post-uterine suspension pregnancy isn't a miraculous occurrence. In fact, if your age, physical condition and intent are all positive, you shouldn't have any problems getting pregnant now that your uterus is properly positioned.
Under the care of a skilled gynecologist, your uterus can function properly after a uterine suspension procedure. As long as it's still connected to your ovaries, your reproductive system will remain intact once your prolapsed uterus is returned to its proper position. With no complications such as pain during sex, you should once again enjoy sexual relations with your partner, which may encourage you to get pregnant.
All symptoms should always be evaluated with a thorough consultation and examination by your gynecologist for an accurate diagnosis and treatment plan to exclude any underlying serious condition. The uterine suspension procedure, indications, options  risks/benefits should always be discussed with your gynecologist.
Important Reminder: This information is only intended to provide guidance, not a definitive medical advice. Please consult ob/gyn doctor about your specific condition. Only a trained, experienced board certified gynecologist can determine an accurate diagnosis and proper treatment.
Do you have questions about Uterine Suspension procedure? Would like to schedule an appointment with one of the top Gynecologists in NYC, Dr. Anat Zelmanovich of Manhattan Women's Health and Wellness, please contact our office for OBGYN consultation.
Dr. Anat Zelmanovich
,
Gynecologist
(
Gynecologist NYC
, Midtown OB/GYN)
51 East 25th Street, Ste 403
,
New York
,
NY
10010
(Between Madison Ave & Park Ave)
☎
(212) 533-4575
Dr. Anat Zelmanovich
,
Gynecologist
(
Gynecologist NYC
, Upper East Side OB/GYN)
983 Park Ave, Ste 1D
,
New York
,
NY
10028
(Between 83th & 84th Street)
☎
(212) 427-8761
Dr. Anat Zelmanovich
,
Gynecologist
(
Gynecologist NYC
, Union Square OB/GYN)
55 W 17th St Ste 104
,
New York
,
NY
10011
(Between 5th & 6th Avenue)
☎
(212) 378-9985
DISCLAIMER: PLEASE READ CAREFULLY
The information on this website is to provide general guidance. In no way does any of the information provided reflect definitive medical advice and self diagnoses should not be made based on information obtained online. It is important to consult a best in class gynecologist in Midtown regarding
ANY and ALL
symptoms or signs as it may a sign of a serious illness or condition. A
thorough consultation
and examination should
ALWAYS
be performed for an accurate diagnosis and treatment plan. Be sure to call a physician or our Gynecology NYC office today and schedule a consultation with a top Midtown OBGYN gynecologist.