Urogynecology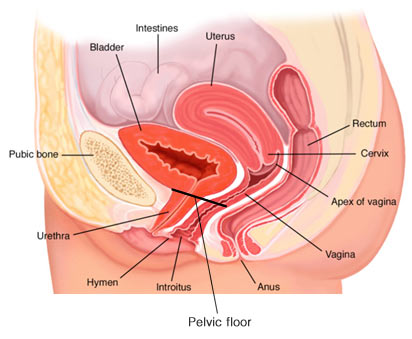 Urogynecology, is a sub-specialty of Gynecology. It is also known as Female Pelvic Medicine and Reconstructive Surgery. Urogynecologists complete medical school and a residency in Obstetrics and Gynecology or Urology. Urogynecologists are specialists with additional training and experience in the evaluation and treatment of conditions that affect the female pelvic organs, as well as the tendons, muscles, and fascia that support them. Many, though not all, complete formal fellowships (additional training after residency) that focus on the surgical and non-surgical treatment of non-cancerous gynecologic problems.
Common Urogynecology Problems
Some of the common problems treated by urogynecologists include:
Urinary incontinence or leakage
Pelvic organ prolapse (dropping of the vagina, uterus, bladder, rectum).
Urogynecologists also treat urinary problems associated with urination, such as:
Increased urgency, frequency
Pain with urination
Overactive bladder
Recurrent UTIs and cystitis.
Urogynecologists are responsible for the care of women who have experienced trauma to the perineum especially during childbirth.
Treatment Options
Treatment options for prolapse include more conservative options such as:
Pelvic floor physical therapy
Pessary placement
Surgical treatment.
Prolapse can be repaired safely and effectively surgically if needed. Prolapse surgery includes:
Vaginal laparoscopic
Vaginal robotic or open approaches, depending on the patient's specific needs.
Pelvic floor physical therapy is an important aspect of treating prolapse, the most advanced aspect of this type of physical therapy includes biofeedback which can help the patient learn how to activate the correct muscles in order to target their specific type of prolapse.
Pessary Placement
Pessary placement includes first a vaginal exam to evaluate the type and size of pessary needed to treat the patient's prolapse. Pessaries can come in varying shapes and sizes. Some patients will need to try a few different types of pessaries before they find the one which fits their specific type of prolapse. Pessaries require maintenance of removal, cleaning, and replacement at least once every three months. This can be done by the patient or at the gynecologist's office depending on the patient's preferences.
Your urogynecologist will evaluate patients with overactive bladder with a thorough history and physical exam, and can also include testing of the bladder with Urodynamic examination. Once the evaluation is complete the urogynecologist can tailor her treatment depending on the results with medication, physical therapy, or other treatments such as posterior tibial nerve stimulation. More invasive treatments include bladder botox, or bladder pacemaker instillation (neurostim bladder stimulator).
Posterior tibial nerve stimulation
Posterior tibial nerve stimulation (PTNS) is a treatment that uses an acupuncture sized needle to provide indirect stimulation to the nerves that supply the bladder, this is thought to decrease the overactivity of the bladder when done successively for at least 6 weeks.
The advantages of posterior tibial nerve stimulation is that the patient will not experience any of the side effects experienced with oral medications, there is no side effects with this therapy.
The disadvantages of posterior tibial nerve stimulation are that it requires a time commitment from the patient, and that it may not work for every person.
Medications for overactive bladder include two categories, the anticholinergic and the beta-adrenergic. There are many anticholinergic medications, they include, Oxybutynin (Ditropan XL, Oxytrol), Tolterodine (Detrol), Darifenacin (Enablex), Solifenacin (Vesicare), Trospium, and Fesoterodine (Toviaz). All of the anticholinergic medications can have similar side effects, including dry mouth, dry eyes, and constipation. These side effects depend on the medication taken, the specific patient, and the dosages given. The beta-adrenergic medication is called Mirbetriq, which does not have the same side effects that the anticholinergic medications have, but may cause a slight increase in blood pressure and is not recommended in patients who are on Metoprolol or on multiple antihypertensive medications.
More invasive procedures can include Botox therapy within the bladder which can help decrease the overactivity of the bladder muscle. This is done by using a cystoscope and injecting the medication directly into the bladder muscles. This treatment is very effective but will only last as long as the botox lasts in the body, usually 3-6 months, after which the treatment will need to be repeated.
Important Reminder: This information is only intended to provide guidance, not a definitive medical advice. Please consult ob/gyn gynecologist about your specific condition. Only a trained, experienced board certified gynecologist in a specialized gynecology facility can determine an accurate diagnosis and proper treatment.
Do you have questions about Urogynecology in NYC? Would like to schedule an appointment with the best urogynecologist in NYC Dr. Anat Zelmanovich of Manhattan Women's Health and Wellness, please contact our office for OBGYN consultation.
Dr. Anat Zelmanovich
,
Gynecologist
OB Gynecologist in Midtown Manhattan, NY
51 East 25th Street, Ste 403
,
New York
,
NY
10010
(Between Madison Ave & Park Ave)
☎
(212) 533-4575
Dr. Anat Zelmanovich
,
Gynecologist
OB Gynecologist in Upper East Side, Manhattan, NY
983 Park Ave, Ste 1D17
,
New York
,
NY
10028
(Between 83th & 84th Street)
☎
(212) 389-1904
Dr. Anat Zelmanovich
,
Gynecologist
OB Gynecologist in Union Square, Manhattan, NY
55 W 17th St Ste 104
,
New York
,
NY
10011
(Between 5th & 6th Avenue)
☎
(212) 378-9985
DISCLAIMER: PLEASE READ CAREFULLY
The information on this website is to provide general guidance. In no way does any of the information provided reflect definitive medical advice and self diagnoses should not be made based on information obtained online. It is important to consult a best in class gynecologist in Midtown regarding
ANY and ALL
symptoms or signs as it may a sign of a serious illness or condition. A
thorough consultation
and examination should
ALWAYS
be performed for an accurate diagnosis and treatment plan. Be sure to call a physician or our New York based Gynecology office today and schedule a consultation with a top Midtown and Upper East Side OBGYN gynecologist.