Sacrocolpopexy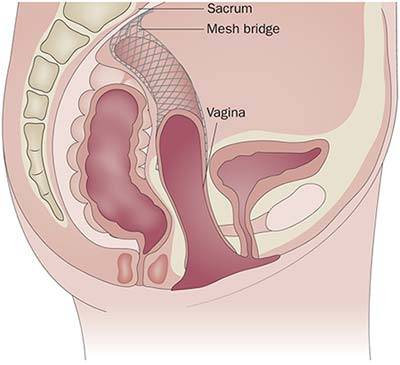 A condition called pelvic organ prolapse, or POP, occurs when the organs in your pelvis drop or fall out of place. The uterus, bladder, vagina or rectum descend from their normal positions during POP and can even protrude uncomfortably from your vagina opening.
Sacrocolpopexy is a procedure designed to treat POP when the uterus or vaginal wall are prolapsed. Robotic-assisted laparoscopic sacrocolpopexy is considered the gold standard treatment for women with pelvic organ prolapse.
And it's a welcomed gynecology treatment, given the high rate of POP among women aged 50 to 89. Nearly 30 percent of women in this age range experience POP. And you are at even greater risk if you have had multiple births, have an increasingly large body mass or had a hysterectomy. These weaken the vaginal floor, which then requires treatment to repair.
Surgical Techniques
Sacrocolpopexy initially only was performed through open abdominal sacrocolpopexy surgery. Yet even with the associated surgical risks and long recovery time, the procedure proved to be 85 to 100 percent effective in treating POP. The technique restores both the anatomy and the function of your vagina by creating a mesh holder attached to the back and top of the vagina, lifting and holding it into its natural position.
With the advent of robotics, however, the treatment now can be performed with minimally invasive techniques, lowering the risks and the recovery time. And the success rate is just as accurate as that of the more hands-on approach previously performed through an abdominal incision.
Da Vinci Robotic Sacrocolpopexy
Complications from laparoscopic sacrocolpopexy surgery to treat POP continued, according to researchers at the Ohio State University Medical Center. Bleeding at the site of the laparoscope, injury to the bowels and other nearby tissue and organs, hernias and vaginal erosions all continued to increase the chance of complications even though the risk of open abdominal surgery were minimized.
In 1999, the development of the da Vinci robotic system as a surgical platform brought the field to an entirely new level of accuracy and dependability. The complexity of the sacrocolpopexy surgery, as well as other pelvic procedures, was greatly reduced. Robotic sacrocolpopexy now has become the choice for many surgeons.
Advantages of a da Vinci Robotics
The advantages of using the da Vinci robotic surgical platform help gynecologists make a strong case for its use because it gives your gynecological surgeon:
More control of his wrist motions
Visual perspective from three dimensions
Better ergonomic positioning
Complete control of the camera
A fourth retractable "arm" on the laparoscope
Filtering of any slight tremors that could lead to complications
Your Midtown gynecology surgeon is always in control of the instruments being used for your procedure. He stands at a master console while the robotic arms do the work with his careful guidance. Your gynecologist controls the robotics with both hand and foot pedals and manipulates the arms with finger-controlled devices to make it turn up, down and sideways.
The da Vinci robot employs a unique camera that takes three-dimensional images that are then displayed on a two-dimensional display. And while the surgeon remains in complete control during the procedure, an assistant is always present to switch instruments when necessary and to provide suction.
Preparation Prior to Surgery
About two weeks before undergoing robotic surgery for POP, you'll need to go through an assessment with your OBGYN. Blood and urine may be drawn and an EKG performed to check out your general health. You need to tell Midtown Manhattan gynecologist, Dr. Zelmanovich what kinds of medications you're taking, including over-the-counter pain relievers, herbal supplements and vitamins, many of which can interfere with blood flow and recovery time.
Stop eating and drinking within about six hours of your procedure. You'll also be asked to shave your pubic area. If you forget to do this or are uncomfortable using a razor there, a nurse will be available to help you prior to the surgery.
How It's Done
You have to undergo general anesthesia for a robotic sacrocolpopexy surgery. Once you are out and lying flat on the surgical table, straps are crisscrossed over your chest to secure you in place. Your arms are padded, and a catheter inserted in your bladder. Your abdomen then is inflated with a saline solution, and the robotic arms enter to perform the tasks assigned by the operating surgeon.
Small incisions are made on the back and top of your vagina where the mesh shield will be attached, also by the robotic arms. Any excess mesh is trimmed and membrane from your abdominal cavity is sewn over it to strengthen the hold and prevent small bowel protrusions. After a final inspection to make sure the mesh is appropriately laced and strengthened, the devices are removed. The mesh is permanent and won't have to be removed.
Recovery Time and Considerations
The time you spend on the operating table varies from one to two hours, depending on whether you also need to have a hysterectomy, or removal of your reproductive organs, during the same procedure. While it's possible, it's not always required. Robotic sacrocolpopexy surgery is an inpatient procedure requiring at least one overnight stay in the hospital.
As with any surgery, risks are present. Though rare, you may experience:
Infection
Vaginal bleeding
Bowel damage
Mesh erosion
Pain during sexual intercourse
Bowel movement difficulty
Blood clots
Anesthesia complications
Once you're at home, you'll be prescribed pain pills for the first week. But you should expect to be back on your feet and fully recovered within two to three weeks. Walking is advised as soon as you're able, to prevent atrophy and blood clots. Avoid lifting more than 10 pounds for at least three weeks and wait at least six weeks to resume sexual activity.
You'll have no dietary restrictions. You can often return to work within about two weeks, depending on how strenuous your job is.
Expectations and Outcomes
Recent studies have shown that the da Vinci robotic sacrocolpopexy surgery has an average 95 percent success rate over a 24-month period. Outcomes are based on patient satisfaction and physical examinations.
All symptoms should always be evaluated with a thorough consultation and examination by your gynecologist for an accurate diagnosis and treatment plan to exclude any underlying serious condition. The sacrocolpopexy procedure, indications, options and risks should always be discussed with your gynecologist.
Important Reminder: This information is only intended to provide guidance, not a definitive medical advice. Please consult ob/gyn doctor about your specific condition. Only a trained, experienced board certified gynecologist can determine an accurate diagnosis and proper treatment.
Do you have questions about Abdominal Sacrocolpopexy procedure? Would like to schedule an appointment with the leading Gynecologist in NYC, Dr. Anat Zelmanovich of Manhattan Women's Health and Wellness, please contact our office for OBGYN consultation.
Dr. Anat Zelmanovich
,
Gynecologist
(
Gynecologist NYC
, Midtown OB/GYN)
51 East 25th Street, Ste 403
,
New York
,
NY
10010
(Between Madison Ave & Park Ave)
☎
(212) 533-4575
Dr. Anat Zelmanovich
,
Gynecologist
(
Gynecologist NYC
, Upper East Side OB/GYN)
983 Park Ave, Ste 1D
,
New York
,
NY
10028
(Between 83th & 84th Street)
☎
(212) 427-8761
Dr. Anat Zelmanovich
,
Gynecologist
(
Gynecologist NYC
, Union Square OB/GYN)
55 W 17th St Ste 104
,
New York
,
NY
10011
(Between 5th & 6th Avenue)
☎
(212) 378-9985
DISCLAIMER: PLEASE READ CAREFULLY
The information on this website is to provide general guidance. In no way does any of the information provided reflect definitive medical advice and self diagnoses should not be made based on information obtained online. It is important to consult a best in class gynecologist in Midtown regarding
ANY and ALL
symptoms or signs as it may a sign of a serious illness or condition. A
thorough consultation
and examination should
ALWAYS
be performed for an accurate diagnosis and treatment plan. Be sure to call a physician or our Gynecology NYC office today and schedule a consultation with a top Midtown OBGYN gynecologist.