This practice is temporary closed. Dr.Bral is seeing patients at 718 444 2300. No medical information on this site should be relied upon in any case.
DISCLAIMER: PLEASE READ CAREFULLY ON BOTTOM OF THE PAGE
LUNA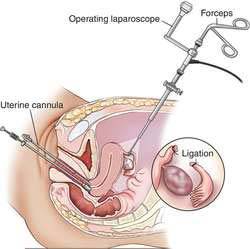 LUNA, which stands for laparoscopic uterosacral nerve ablation, is a procedure that can help alleviate chronic pelvic pain. A common condition among women, chronic pelvic pain can impact your quality of life. In 40 to 60 percent of chronic pelvic pain cases, the cause of the pain isn't obvious or even testable, leaving doctors with few options for treatment — and patients with debilitating pain and no relief in sight.
The pelvic nerve carries pain from your cervix, pelvic structure and uterus throughout your lower pelvic region before it reaches your brain. And to alleviate your pain, your doctor interrupts these nerve impulses by laparoscopic uterosacral nerve ablation. It's the only way to ease the constant pain.
Chronic Pelvic Pain
Chronic pelvic pain is defined as internal pain that occurs in an area anywhere from below your navel to your vagina that strikes continually for more than six months. It can include dysmenorrhea, severe pain that accompanies your periods, and dyspareunia, which refers to pain you get while having sexual intercourse.
Endometriosis is a common, painful condition that's the most common cause of chronic pelvic pain. It occurs when tissue that normally only grows within your uterus expands outside the uterus. Other common — and mostly treatable — causes of chronic pelvic pain include:
Postsurgical pain
Pelvic inflammatory disorder
Nerve entrapment
Pelvic congestion syndrome
Once common tests, ranging from pelvic exams to laparoscopy or ultrasounds, help your doctor diagnose the cause of your pain, treatment can follow quickly to neutralize your pain. But too often, the underlying cause is never found. Yet your life continues to be disrupted by the disabling pelvic pain. LUNA, with its risks and possible side effects, may be the best option if you and your doctor agree.
How It Works
Laparoscopic uterosacral nerve ablation, as the name suggests, involves destroying those pelvic nerve connections that are causing you pain. A laparoscope is a long, thin device that's inserted into your pelvic cavity through a small incision made near your navel. A light is attached to the end of the tube, giving your gynecological surgeon the means to view what's going on in there.
A second tube runs through the first device, which holds instruments that your doctor can use to perform the surgical ablation. The laparoscopic ablation, or destruction, of the uterine lining or nerve tissues can be done by freezing or heating — with lasers or electricity — depending on your condition, your overall health and the type of symptoms you've presented. A LUNA should never be performed if you are pregnant or think you may be pregnant.
Before you undergo LUNA, you may have to go through a biopsy procedure to ensure that your symptoms are not due to cancer. During the LUNA, your doctor will discern if fibroids or polyps are present, in which case the LUNA would be stopped. If you have an intrauterine device, or IUD, it must be removed prior to ablation.
Before the procedure, you're put to sleep with anesthesia. Your cervix is then dilated to allow for easy passage of the instruments. Depending on the types of uterine surgery your doctor plans to perform, anesthesia may be general or localized. Most of the time, LUNA can be done on an outpatient basis, but that means you need someone else to drive you home.
Complications and Risks Involved in LUNA
It's rare that you'll have to worry about side effects from the procedure, but as with any minimally invasive treatment, complications, such as the following, are possible:
When it's used, uterine cauterization can leave burn injuries on your uterus.
You may develop an infection.
Excessive bleeding may occur after the procedure.
Your uterus can be perforated by a sharp instrument.
The cervical opening may be damaged or torn.
The fluid that's used to expand your uterus may leak into your bloodstream. It's very rare, but the fluid could enter your lungs causing a pulmonary edema.
The pain may return.
Common surgical risks associated with most procedures also include:
The potential to develop blood clots
Extensive blood loss leading to anemia
Headaches
Difficulty sleeping
Fatigue
Constipation
Diarrhea
After you get home and rest for a few days, you should be able to resume your normal daily activities. A mild pain reliever can help you get through the times when the minor pain becomes too uncomfortable. Other common side effects that could happen include:
Frequent need to urinate
Cramping that feels like menstrual pain
Nausea
Appearance of a watery discharge that's mixed with blood
Potential Results
It's possible that you'll be infertile following uterine ablation, but after years of chronic pelvic pain, that may not be a high priority. Ablation, however, is not a substitute for birth control, because of the risks involved. The chances that the procedure won't get rid of your pain are higher if you:
Are younger than 45
Have had five or more children
Have a long history of painful menstrual cramps during your periods
Had a tubal ligation
Who May Not Be Eligible
LUNA does have its detractors, so you should talk to your doctor about the procedure and its effectiveness. Some studies, according to the Journal of the American Medical Association, have shown that chronic pelvic pain wasn't alleviated following LUNA. At the same time, enough women found relief. With little else to rely on, the procedure continues to be used.
But it's not for everyone. You wouldn't make a good candidate for LUNA, for example, if you already had LUNA performed in the past and it didn't help. You may not be eligible for LUNA if you've:
Had a hysterectomy
Been diagnosed with moderate or severe endometriosis
Had PID or pelvic inflammatory disease
Long-Term Outcomes
The best outcomes of LUNA become more evident in the long-term, although your experience may vary. You may have immediate relief from the debilitating pelvic pain that has affected your work, physical abilities and even your mental health. But the true measure is if you are still pain-free after 12 months. Failure rates after five years tend to run between 16 to 30 percent.
Important Reminder: This information is only intended to provide guidance, not a definitive medical advice. Please consult ob/gyn doctor about your specific condition. Only a trained, experienced board certified gynecologist can determine an accurate diagnosis and proper treatment.
Do you have questions about laparoscopic uterosacral nerve ablation (LUNA)? Would like to schedule an appointment with the nationally recognized as top OBGYN specialist in NYC, Dr. Pedram Bral, please contact our office.
Dr. Pedram Bral
,
Gynecologist
(
Gynecologist NYC
, Midtown OB/GYN)
51 East 25th Street, Ste 403
New York
,
NY
10010
(Between Madison Ave & Park Ave)
☎
(212) 533-4575
Dr. Pedram Bral
,
Gynecologist
(
Gynecologist NYC
, Upper East Side OB/GYN)
983 Park Ave, Ste 1D
New York
,
NY
10028
(Between 83th & 84th Street)
☎
(212) 533-4575
DISCLAIMER: PLEASE READ CAREFULLY
The information on this website is to provide general guidance. In no way does any of the information provided reflect definitive medical advice and self diagnoses should not be made based on information obtained online. It is important to consult a best in class gynecologist regarding
ANY and ALL
symptoms or signs as it may a sign of a serious illness or condition. A
thorough consultation
and examination should
ALWAYS
be performed for an accurate diagnosis and treatment plan. Be sure to call a physician or our Gynecology NYC office today and schedule a consultation with a top Midtown OBGYN gynecologist.