Rectocele (Posterior Prolapse)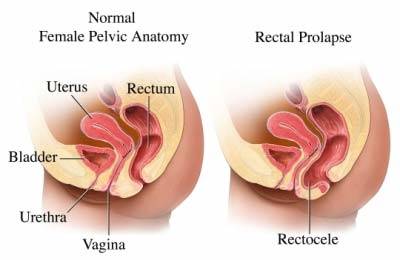 Rectocele, more commonly referred to as posterior prolapse, occurs when the fascia, or thin wall of tissue that separates your vagina from your rectum, becomes weak and eventually causes a bulge or herniation to push out into your vagina.
This condition is relatively common and affects an average of about 200,000 women every year in the United States, according to the Mayo Clinic. The reason that the condition also is called rectocele is because very often, although not always, it's your rectum that bulges against your vagina.
A rectocele should always be evaluated with a thorough consultation and examination by your gynecologist for an accurate diagnosis and treatment plan.
Causes of the Bulge
The word "prolapse" means that an organ in your body has slipped out of place. One of the main causes of posterior prolapse is childbirth because of all the pressure placed on your vaginal walls. While there isn't always an exact cause related to your rectocele issues, some common reasons include:
Age, as your pelvic floor loses strength over time
Trauma you may have had during a difficult delivery
Multiple births
Tearing that occurred during childbirth
Episiotomy
Chronic constipation and accompanying pushing that's involved
Numerous gynecological or rectal surgeries
Symptoms of Rectocele
Chances are that you won't have any symptoms if you have a rectocele. As a matter of fact, about 40 percent of women end up finding they have the condition following a routine annual pelvic exam. Symptoms that are present, however, fall into two distinct categories: vaginal and rectal.
Vaginal symptoms include:
Tissue hanging out of your vagina that you can see and feel
Unusual vaginal bleeding not associated with your period
Pain or discomfort during sexual intercourse
A feeling of fullness or stuffiness in your vagina
Looseness in your vagina and decreased sexual sensations
Rectal symptoms may include:
Hemorrhoids
A need to use your fingers to hold back the hernia while you have a bowel movement
Difficulty having bowel movements, leading to constipation
Urges to have multiple bowel movements throughout the day
Small pieces of stool seep out unnoticed
Rectal pain and pressure
Symptoms should always be evaluated with a thorough consultation and examination by your New York gynecology specialist for an accurate diagnosis and treatment plan to exclude any underlying serious condition.
Definitive Diagnosis
Again, it's likely that your OBGYN will feel the bulge while conducting your pelvic exam. Once it's suspected or if you present with more uncomfortable symptoms, tests to definitely diagnose rectocele can include:
Adding a rectum exam to your hands-on pelvic examination
A device inserted into your rectum can deliver a digital rectal exam that often shows how weak the anterior wall of your rectum actually is
Defecography is a special X-ray designed to produce images of the rectocele
For a defecography exam, your rectum, bladder and vagina are filled with a contrast fluid. You sit on a specially designed toilet to defecate. Once a rectocele is found, your gynecologist, Dr. Zelmanovich in Midtown NYC can determine the size of the bulge as well as your ability to fully empty your rectum. Generally, a rectocele larger than two centimeters is considered abnormal.
First Line of Defense
Except in extremely dangerous circumstances, your ON/GYN almost always prefers to try non-surgical treatment before resorting to surgery. And for the vast majority of rectoceles, non-surgical treatment works. It really just involves managing your minor symptoms — or if you don't have any symptoms, taking precautions to prevent them from happening.
Some of the lifestyle changes that can help you accomplish that include:
Refrain from straining while having a bowel movement
Eat a high fiber diet that includes at least 25 to 35 grams of fiber per day
Use fiber supplements if necessary
Snack on food like fiber bars and high-fiber cereal
Drink plenty of water — six to 10 glasses a day
Use stool softeners occasionally as directed by your gynecologist, Dr. Zelmanovich in Midtown
Don't sit on the toilet for longer than five minutes at a time
Try biofeedback
Do Kegel exercises daily to strengthen your pelvic floor
Another option may be the insertion of a pessary, or conical ring. It's inserted into your vagina to hold the bulge in place. A number of pessaries are on the market, including ones that you can take out and clean yourself and others that require a gynecologist, Dr. Zelmanovich in Midtown to remove, clean and reinsert.
When Surgery Is Necessary
After trying the more conservative suggestions without success while your symptoms continue to interfere with your everyday activities and quality of life, you may have to undergo surgery to repair the prolapse. If, however, you plan on getting pregnant in the future, you may want to wait to have a surgical procedure that could render you infertile. Your surgeon has a number of options for approaching the procedure:
Through your vagina
Through the space between your rectum and your vagina, called the rectovaginal septum
Transanally or through your anus
Through your abdomen by means of laparoscopy or as an open surgery
Unless you have a minimally invasive laparoscopic procedure, you will need to go into the hospital and stay for a couple days for a rectocele repair surgery.
Depending on the location of your surgery, your pubic hair may be shaved
You may be under general anesthesia or sedated with local anesthesia
A catheter is inserted
Various tools are available for your gynecologist, Dr. Zelmanovich in Midtown NYC to push the bulge back in place, repair the tear or loosened tissues and insert a mesh lining to prevent further bulging
Recovery Varies
You'll be encouraged to walk shortly after you return to your room to prevent blood clots. You may have to remain in the hospital for a couple days, depending on your reaction to the anesthesia, your pain level and your ability to walk by yourself.
Once released, you'll have strict instructions to follow at home to ensure a proper recovery. Your recovery could last anywhere from three to eight weeks. Discharge that's pink or red is normal; it subsides over time and becomes more yellow or brown until it stops. Other important steps you need to follow may include:
Wear sanitary pads to absorb the discharge and change them every time you use the bathroom
Avoid sex, douching or tampons until you've seen your gynecologist, Dr. Zelmanovich and get the OK
After using the toilet, always wipe from front to back
Call your OBGYN if the discharge turns foul-smelling, if you perceive the blood to be heavier than normal or if you see clots passed
While every surgery has risks, the benefits usually far outweigh the concerns. However, some potential risks associated with this surgery can include:
Failure of the surgery to fix the problem
Injury to your rectum or other body parts
Infection
Blood clots
Sexual problems due to damaged nerves or because of poor vaginal healing
Important Reminder: This information is only intended to provide guidance, not a definitive medical advice. Please consult ob/gyn doctor about your specific condition. Only a trained, experienced board certified gynecologist can determine an accurate diagnosis and proper treatment.
Do you have questions about Rectocele (Posterior Prolapse)? Would like to schedule an appointment with the Best Rated OB Gynecologist in New York City, Dr. Anat Zelmanovich, please contact our office.
Dr. Anat Zelmanovich
,
Gynecologist
(
Gynecologist NYC
, Midtown OB/GYN)
51 East 25th Street, Ste 403
,
New York
,
NY
10010
(Between Madison Ave & Park Ave)
☎
(212) 533-4575
Dr. Anat Zelmanovich
,
Gynecologist
(
Gynecologist NYC
, Upper East Side OB/GYN)
983 Park Ave, Ste 1D
,
New York
,
NY
10028
(Between 83th & 84th Street)
☎
(212) 427-8761
Dr. Anat Zelmanovich
,
Gynecologist
(
Gynecologist NYC
, Union Square OB/GYN)
55 W 17th St Ste 104
,
New York
,
NY
10011
(Between 5th & 6th Avenue)
☎
(212) 378-9985
DISCLAIMER: PLEASE READ CAREFULLY
The information on this website is to provide general guidance. In no way does any of the information provided reflect definitive medical advice and self diagnoses should not be made based on information obtained online. It is important to consult a best in class gynecologist in Midtown regarding
ANY and ALL
symptoms or signs as it may a sign of a serious illness or condition. A
thorough consultation
and examination should
ALWAYS
be performed for an accurate diagnosis and treatment plan. Be sure to call a physician or our Gynecology NYC office today and schedule a consultation with a top Midtown OBGYN gynecologist.